현대백화점 글로벌 멤버십 카드
Global Membership Card of Hyundai Department Store
2014년 9월부터 한국의 대표적인 프리미엄 '현대백화점'은 이노버 코리아와의 파트너십을 통해 외국인 고객을 대상으로 K-Card를 선보였다.
From September, 2014, Hyundai Department Store, the utmost Korean premium department store, has shown foreign customer-oriented K-Card through the partnership with Innover Korea.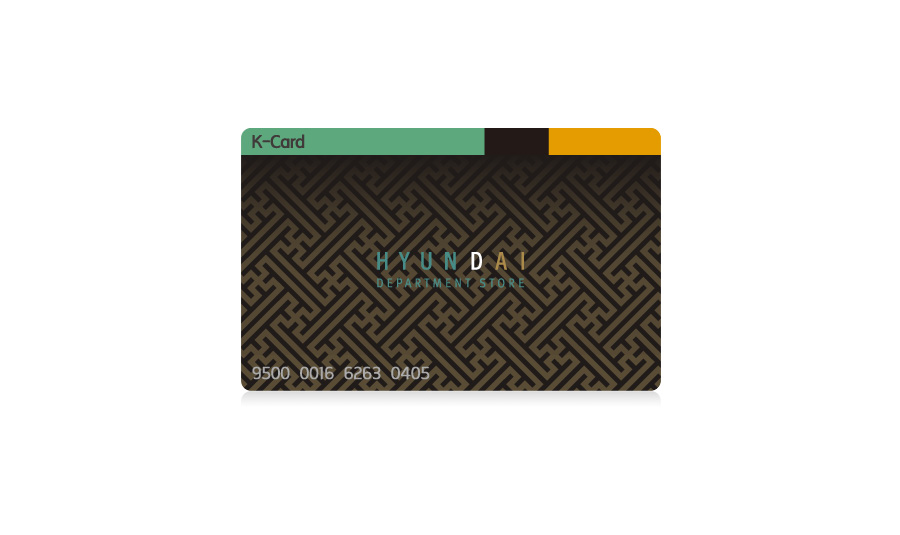 현대백화점 K-Card는 외국 국적의 고객을 대상으로 한국 여행시 필요한 모든 기능을 제공한다. 특히 교통카드 기능은 관광객들에게 편리함을 제공한다. 이외에도 고객들에게 한국에서 식사, 호텔, 문화를 즐길 수 있도록 쿠폰북을 제공하여 원하는 브랜드를 선택하여 즐길 수 있다. 한국을 방문하는 여행객의 관점으로 보고, 지속적으로 다양한 보너스 포인트와 할인 혜택을 누릴 수 있는 현대백화점 글로벌 통합 카드로 관광객들의 니즈와 원츠를 동시에 만족시키고 있다.
The K-Card of Hyundai Department Store provides all necessary functions to foreign customers when traveling to Korea. In particular, the transportation card function provides convenience to travelers. Besides, it provides discounted coupon books for the customers to enjoy meals, hotel, and culture in Korea so that the customers can choose which stores and restaurants they would like to visit. It views from the tourists' perspectives and satisfies their needs and wants with the global K-card with which the customers can constantly receive a variety of bonus points and discount benefits.